Need for an Enhanced User Experience Drives Adoption for VDI and User Experience Management Solutions
Earlier this year, during our annual DISRUPT event, we had the opportunity to dig deeper into the issues and challenges IT faced during the onset of the global pandemic. Most specifically, we looked into how end user computing (EUC) professionals addressed the immediate need to move workers from the office to home with record speed.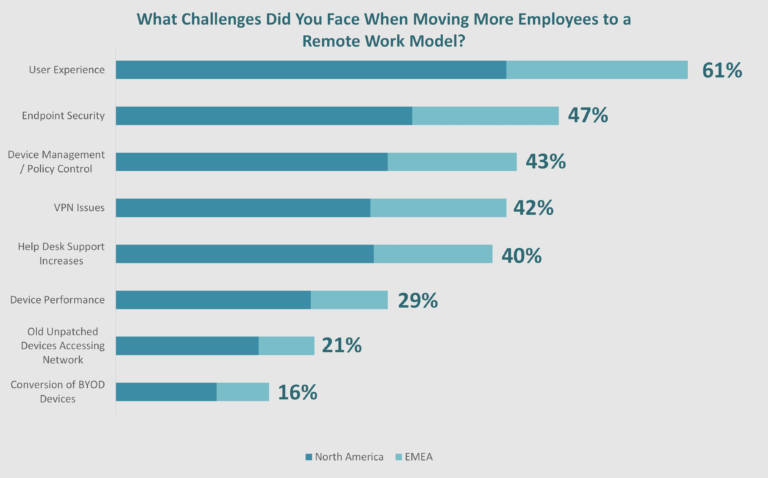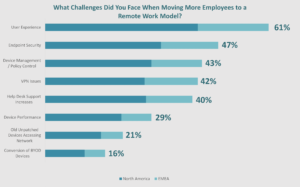 Based on survey responses from 269 end user computing (EUC) professionals across North America and EMEA, 61% named user experience the most significant challenge they faced when shifting to a work-from-home model. While being the number one issue across all regions, the challenge was more prevalent in North America (66%) than EMEA (52%).
This finding was notable, considering the significance of the other challenges we ranked, including issues around security and VPNs as well as help desk impact and policy control. The takeaway? EUC professionals know that if user experience isn't optimal, the productivity and performance of the company can suffer.
SECURITY STILL CRITICAL CONCERN
Even while user experience ranked the highest, it's still notable to see that nearly half (47%) of EUC professionals ranked endpoint security a top challenge. Combine this with other related security issues including policy control (43%), VPN issues (42%) and unpatched devices accessing the network (21%), one could argue that concerns around security, together, do claim the top spot.


What is the EUC professional's biggest concern when it comes to security? That they can't effectively manage remote software, OS upgrades and patching for their remote systems (34%). Fear of ransomware attacks (24%) and accidental data loss (22%) were also notable. This shows that, while the concerns may vary, fear of limited protection for remote workers and their devices from unwanted intrusion is high.
NEED FOR A BETTER USER EXPERIENCE AND SECURITY DRIVES VDI ADOPTION
With user experience and security so top of mind, it's not a surprise that EUC professionals, to address these needs, named virtual desktop infrastructure (VDI) as a top consideration for adoption (58%) following the pandemic. This was a much more heightened consideration in North America (65%) than EMEA (25%).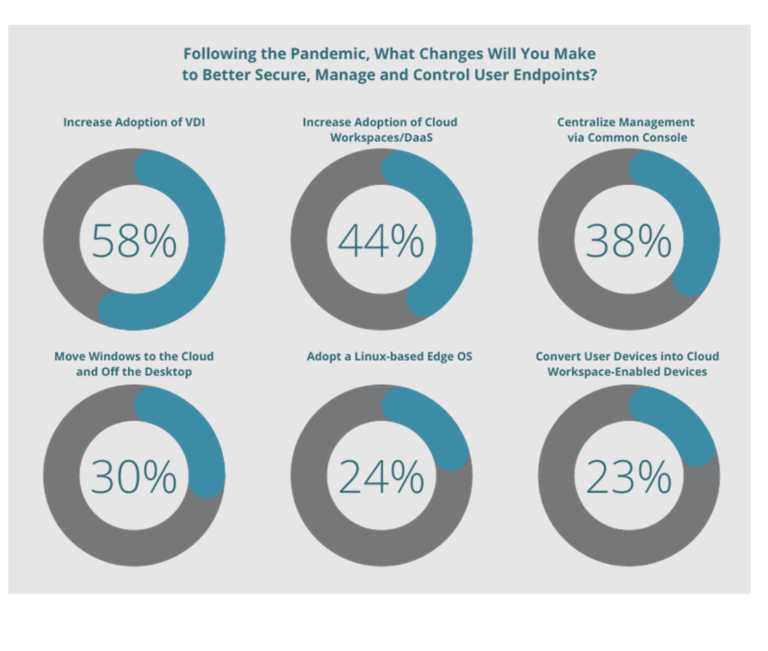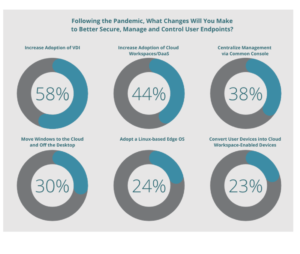 Other significant technologies being considered following the pandemic are the adoption of cloud workspaces and desktop-as-a-service (DaaS) (44%), centralized endpoint management (38%) and moving Windows to the cloud and off the desktop (30%). Each of these solutions puts control back into the hands of IT for greater security and policy management, while further empowering remote users with the data and application access they need for high productivity.
Enabling technologies, including the adoption of a non-Windows based endpoint OS and the conversion of user devices into cloud-enabled endpoints also ranked as desired post-pandemic technologies, 24% and 23% respectively. As solutions to enable VDI, DaaS and the move of Windows to the cloud, these additional selections show that EUC professionals are not only looking at the future of their user workspace architecture, but how they will improve deployment speed for that architecture, while lowering costs.
PERSISTENCE OF WORK FROM HOME DRIVES NEW ENDPOINT PRIORITIES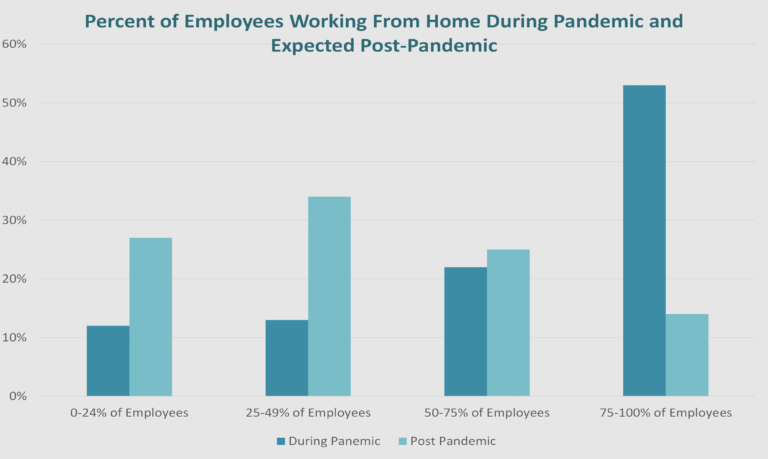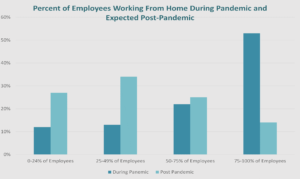 Among the EUC professionals responding to our survey, one additional factor remained perfectly clear: employees will continue to work remote, long after the pandemic subsides. In fact, during the pandemic, 75% of respondents reported the more than 50% of their employees were working from home. Once the effects of the pandemic are over, as many as 39% expect more than 50% of their employees to continue working from home.
What does this mean for future EUC technology priorities? Respondents still prioritized end user experience, stating that employee experience management (EEM – 58%) technologies would become their top priority over the next 12 months. Driven by the need for increased security and a lighter IT resource load, identity and access management (IAM – 52%) and modern unified endpoint management (MUEM – 45%) were also in the top three.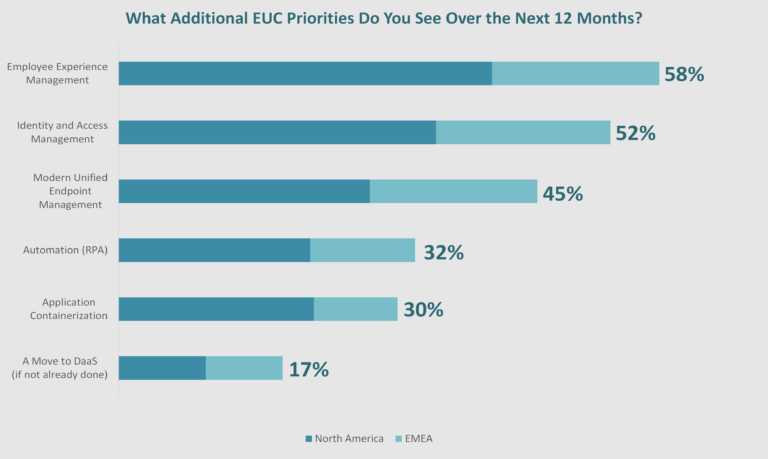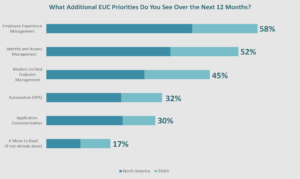 Ultimately, the global pandemic has given EUC professionals a lot to deal with, in very fast order. This has accelerated many of the trends and technologies that may have already been in discussion, including VDI, DaaS and cloud workspaces. But what may not have been as anticipated is just how important a delightful user experience is to ensure business continuity and productivity.
Moving forward, close attention to the needs of users, along with ensuring security and simplified management for IT, will remain more important than ever. As we push beyond the effect of COVID-19 on the workplace, a heightened understanding of the challenges and needs to empower users to work remotely will remain. The silver lining may just be that we are more ready than ever to enable an agile work model, come what may.